iPhone and iPad App Development
Honour your enterprise with iPhone apps
Perfection and innovation - When you hear these two words, you remember Apple's iPhone and iPad. Since 2007, the smart phone industry has been redefined with each release of iPhone, be it hardware or software. With its ever-growing features every year, fast performance, ever-stunning display, amazing accessibility features, a million of brilliant apps to cater to the user requirements, iPhone has surpassed its consumer market to become a business phone.
Reentering the tablet market in 2010, with its iPad, Apple once again redefined the user experience of tablets, forcing the tablet manufacturers to realign their thinking. Bigger screens, fast processors, speedy graphics processors, high resolutioned retina displays, highly responsive multitouch user interface, countless apps for just everyone, all these have contributed to the millions margin sales of iPad. With iPad mini and iPad Air, Apple has catered to the different hardware and software requirements of its crazy fans.
Powering iPhone and iPads, iOS has earned thumbsup from its millions of users for its scintillating features and performance. Smoothing the multitouch experience more than ever, it has taken the smart phone and tablet pragmatics to a newer heights. The release of iOS, Iphone and iPad have become almost a festival, from users to manufactures watching and celebrating.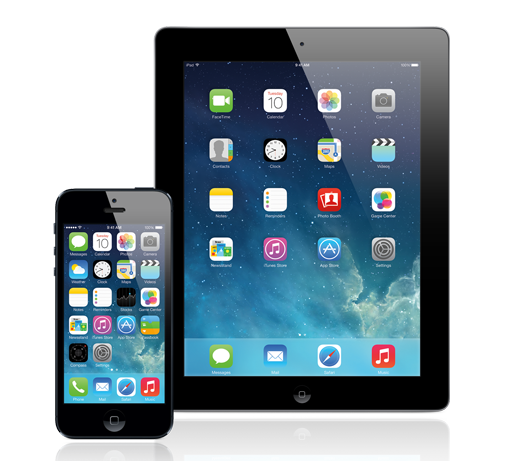 Developing just an app for iPhone and iPad is not all. Getting the best out of these premium devices through apps for your business and customers creates the difference in the world. This is the frame where Nexmoo Solutions fixes its imprint.
Nexmoo Solutions, a leading provider of mobility solutions, has been in iPhone and iPad app development since the inception of both these devices. Our iPhone and iPad app development is backed by the team of experts best in the industry.
Inspired by the innovative features of iPhone and iPad, we vow to leverage the fullest potential of these devices in developing business and customer apps for our clients. We combine our technical brilliance with our creative prowess in designing, developing, testing, implementing, assisting in app publishing and supporting in the field of iPhone and iPad app development.
We have our diligence in migrating apps between the versions of iOS and between iPhones and iPads. Our skills go to the extend of even migrating apps from other mobile operating systems too.
Our domain expertise include media and entertainment, sports, travel and tourism, FMCG, automobile, health care and medical and so on. With the best business understanding and technical excellence, we assure you a best business app that increases your revenue and enhance your customer experience.